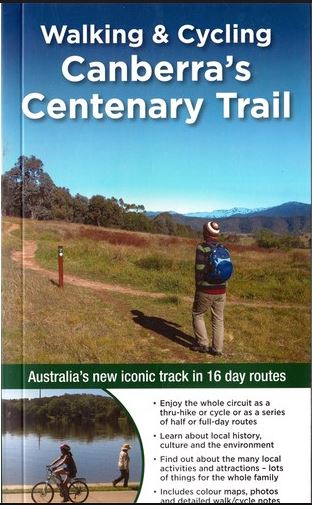 2015 Reprinted 2017, 2018
Nina Hvoslef and Tallis Didcott
Soft cover
186 pages
Colour photographs & maps
$30.00
Why not grab your walking shoes, your bike, the family, the dog and this mighty handy guide book and head out into Canberra's beautiful hills and bushland!
Officially opened in 2013, Canberra's Centenary Trail was created to celebrate Canberra's 100th official birthday.  The trail consists of 145 kilometres of tracks and trails designed for walkers and cyclists and showcases the natural, cultural and historic areas surrounding and within Canberra.
This book provides handy suggestions on ways to tackle the various stages of the trail as short, medium or long day walks, as well as full colour maps which clearly show how to get to, from and along various parts of the trails.  The 'at a glance' box which is dotted throughout the book provides everything you need to know to get started including Grade, Time, Distance one way, Circuit options, Track Conditions, Cycling info, Dogs-allowed or not, and a nice little extra bonus… suggested kids activities!  These are listed at the back of the book and provide excellent ideas on ways to get the kids busy during the walks, encouraging them to use their senses to really immerse themselves in the natural environment.
This great book will make it easy to discover and enjoy Canberra's hills and surrounds by following Canberra's Centenary Trail!